-Name: Hydra Summoning
Incantation: Hydra! (Then Tega drops a blue seed on the ground and it summons the Hydra

)
Ability: Basically summon a Hydra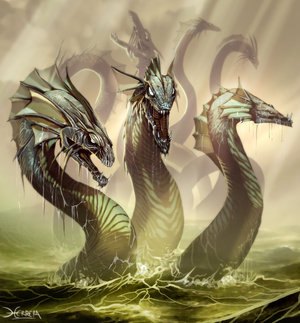 THe Hydra is able to grow three heads everytime one is cut off. Tega is only able to do this once. The Hydra also can blow blue fire.
Limit/Duration/Cooldown: Duration: (depending on how long it takes to cutt the hydra's heads off) Cooldown: 8 posts
-Name: Water Needle
Incantation: WATER NEEDLE!!!
Ability:
a large water spout is created and is used as a tornado like needle agenst the enemy.
Limit/Duration/Cooldown: Limit/duration: 7 posts Cooldown:4 posts
-Name: Water wave
Incantation:Tega slides his left hand accross his right arm.
Ability: Basically the ability to control the waves and water bt also to slam them together very hard.
Limit/Duration/Cooldown: Limit/duration:10 posts cooldown:3 posts